Exclusive interview with Gloria Trevi: For Everyone
Author: Adam Floyd

Sep 30, 2017,
Dressed by Natalia Fedner www.nataliafednerdesign.com
Gloria Trevi, controversial but admired, manages to impose her own style that delights to crowds. He was born in Monterrey, where he lived with his parents and had great attachment to his maternal great grandparents with whom he has unforgettable memories.
From his beginnings, with a rapturous temperament, he knew that he would not imitate any famous singer, and sang songs never heard. Gloria is the most original, rebellious and passionate artist in Mexico.
In 1989, she appears in Siempre en Domingo, conducted by Raúl Velasco, and performs as a soloist promoting her first album "What do I do here? "And starting from there his enormous success. "Doctor Psiquiatra" is a song that drives all of Mexico crazy and everyone follows that crazy singer of broken stockings who with his songs has them all perplexed. In 1990 he won three gold records for the high sales of his first album; also the Aztec Gold Calendar and the Great Awards, and was recognized as one of the 15 most important artists in Mexico.
With her second album "Tu Ángel de la Guarda", Gloria became an international superstar with the success of his simple "Pelo Suelto", the album went on to sell more than 6 million copies internationally. Gloria continued her triumphant career, and in 2013 released her tenth album "De Película" and began an international tour promoting the album and her hit singles like "I'm not a bird" and "Speak blah blah".
With three decades in the industry, Gloria has more ambitions than ever before. With a successful tour, a new album, Trevi has just revealed that it will open the doors of its life this October with a television program by the chain Mun2 that will follow in its adventures while it works and reveals his personal life.
Dress by Nicolas Jebran
Tell us about your successful new album "De Película" ...
I am more than happy and excited, I am grateful to God and the audience for the reception that has not only the album "De Película" but the tour in the United States, have given me many surprises. I'm just about to start the tour in Central and South America, I'm going to still do some cities here and then for 2015 I start with the "De Pelicula 3D" tour of Mexico.
of the album called "Speak Blah Blah" ...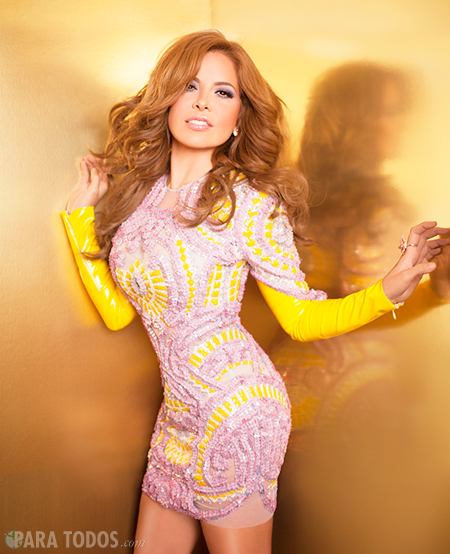 Regarding my new single called "Speak Blah Blah", it's a song that catches me a lot. For me it's like a kind of new generation of the "Everybody Look at Me" because it's those songs from when you're fucked, when people are saying things about you, when they broke your heart, that song you put it on and it changes you the currency, you change the day, you change the whole situation. It's a song that gives you pride, that gives you power, that makes you so evil (laughs). The truth is that it is a song that I enjoy very much because they have talked so many things about me, that after all, I ended up realizing that if sometimes with your words you can hurt but also with your words you become a kind of legend, of eternal creature, give you your energy.
What can you tell us about your "Movie" tour ...
This fall, your Reality Show opens ... why did you decide to open the doors of your life to the cameras right now?
Because there is so much talkablahblah around me I think it will be very interesting for people to see the facts ... It will be fun to go on tour together and very emotional to go home! And I'm in a moment where everything happens around me! Wow!
What are your best memories with your first album?
Well! Go figure! My first number one! And the beginning of a great adventure!
What do you like most about Mexican culture?
The full interview with Gloria Trevi is in the August 2014 issue of For All. .
More news: Photos of the most beautiful and beautiful trees in the world
---
---